LA RVF – NEW DOMAINE IN THE GREEN GUIDE!
DOMAINE GRAEME & JULIE BOTT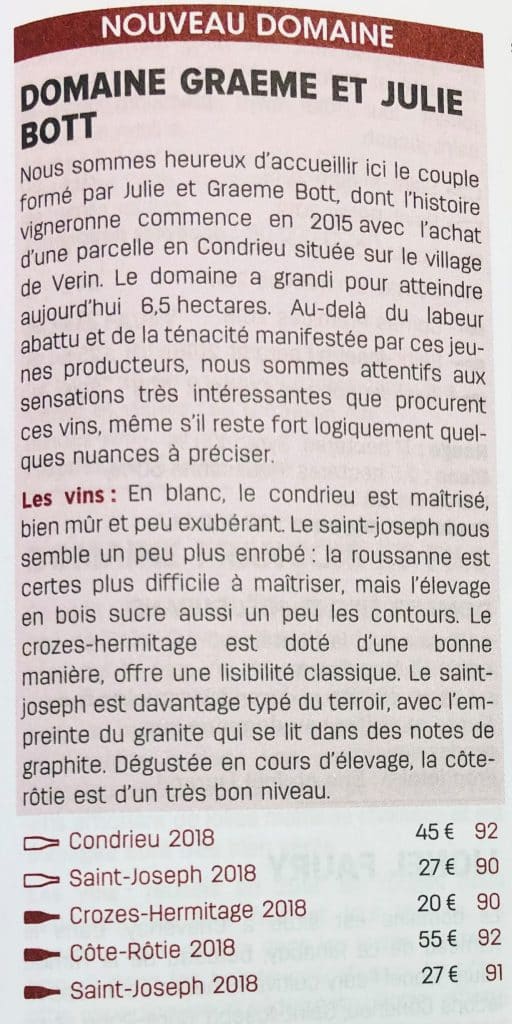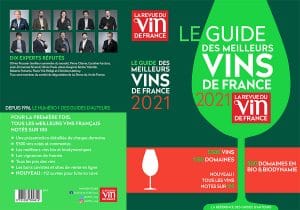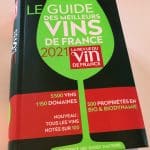 MAGAZINE REVUE DES VINS DE FRANCE – JUNE 2019
First time to present our wines in La Revue du Vin de France… What an article and great scores!
Blind tasting of the vintage 2018 – Domaine Bott was chosen as the Discovery of Nothern Rhône Valley! Have a look of our scores for Condrieu et Côte-Rôtie 2018:
"Wines compelling and deep, reflecting their image":
Article in English – Translation:
"Here is a couple you need to follow closely. Julie, a local from the region, and Graeme a New Zealander, worked together at Stephane Ogier's during 7 years. Their Domaine was created in 2015, with the ambition to buy only beautifully positioned parcelles and develop to 9 hectares maximum. The 6 hectares which today compose their Domaine are situated in Côte-Rôtie, Condrieu, Crozes-Hermitage, Saint-Joseph and Seyssuel. For their first presentation for the special vintage review, they were distinguished by their perfect understanding of the 2018 vintage, with wines defined, compelling and deep, everything of their image." Pierre Vila Palleja
Condrieu 2018 – 15-15.5/20 Barrel sample (tasted blind) 
This Condrieu did not fall into the trap of the vintage. Refined nose, with the core full of menthol and yellow flowers. The mouth is delicate, fond, with a pure touch. Long fresh finish.
Côte-Rôtie 2018 – 16-17/20 Barrel sample (tasted blind)
We find in this Côte-Rôtie the codes of a long-established winemaker. The nose is refined, with black pepper, smoked bacon and Earl Gray tea. The Burgundian approach of winemaking gives a delicate wine, with a precise extraction with precise tannins, all with a good length.